A Message From Our Executive Director
Dear Friends,
Upon entering the military, every service member takes a solemn oath to protect and defend the Constitution of the United States of America. The government at the same time pledges to provide them with certain rights and benefits if they should be injured or become sick due to their military service. We have painfully seen ever since the Vietnam War that too often our government falls tragically short on this pledge.
Since 1981, the National Veterans Legal Services Program (NVLSP), an independent nonprofit organization, has been dedicated to ensuring that our govern­ment lives up to that pledge and provides our 22 million veterans and active service members the benefits they have earned due to disabilities resulting from their military service to our country.
NVLSP advances its mission by directly representing individual veterans on disability claims at no cost; bringing class actions and other law reform litigation to remove systemic barriers to justice; recruiting, training, and mentoring thousands of volunteer attorneys and veterans' advocates to represent veterans; providing representation through our Lawyers Serving Warriors® pro bono program; and producing and distributing advocacy and educational materials to enable advocates to assist veterans and their families in securing the benefits they have earned.
We have developed partnerships with many state departments and veteran service organizations to train thousands of their veteran service officers through live trainings and, virtually, through webinars. To empower veterans, we created the NVLSP VA Benefit Identifier app, which allows veterans to determine for themselves the specific Department of Veterans Affairs (VA) benefits that they are likely entitled to receive.
At NVLSP, we have adopted the uniform code to serve our nation's veterans with the same vigor and dedication that they have demonstrated in their service to our country. We are determined to use our legal expertise to remove the barriers the government has placed between disabled veterans and the benefits they need and deserve.
As you read this Impact Report, you will discover the many ways we ensure that our nation's veterans and their families get the benefits to which they are entitled and why our mission must continue.
Sincerely,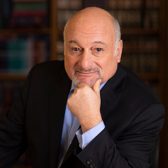 Barton F. Stichman
Executive Director (1981-July 2021)